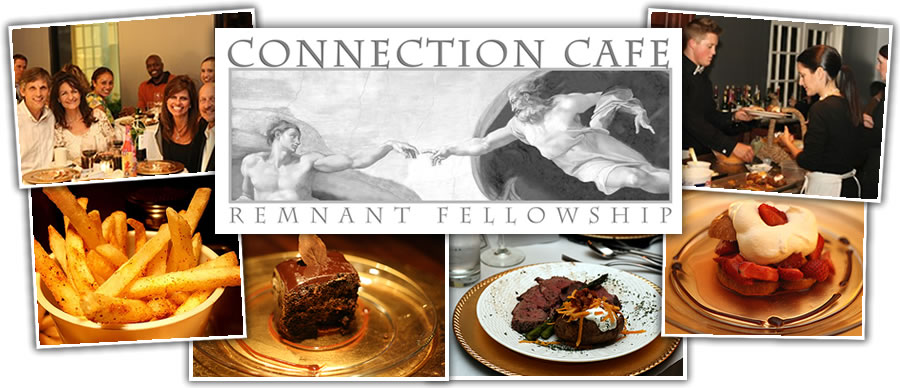 Menu, Events and Occasions

Current Menu
Special Events
Reservations
Recent News & Updates
S

liders – $2.50 each

"The best slider I have ever had!" – quoted from many delighted patrons of the Connection Cafe!  These little burgers are made to order with any of the following ~ cheddar cheese, bacon, lettuce, tomato, or grilled onion. Order with "The Works" as our Connection Cafe specialty! Order one two or three of them…Delicious.
– Additional items –
Bacon
Cheese
Lettuce
Tomato
Grilled Onion
Q

uesadillas – $5.50

These are fast becoming a Connection Cafe favorite. Order Chicken Quesadillas or Bacon Quesadillas, yes bacon! These are served with a side of homemade tortilla chips and a trio of guacamole, salsa, and sour cream. Jalapeños on request.
– Items to Add –
B

aked Potato

Our regular baked potato is a simple and delicious side option. Our baked potato is served with sour cream and butter on the side. If you order the loaded baked potato, we fill this baked potato with chili, cheese, bacon, onion, sour cream and butter. This is definitely entree sized and we are delighted to offer a to-go box if you don't finish it!

Plain – $3.00
Loaded – $4.50
S

weets

Let's talk sweets.  Connection Cafe has some of the best bakers in town. What's the flavor of the day?  Well, some of our recent favorites are Red Velvet, German Chocolate, Strawberry, and Chocolate. We offer two sizes…a "regular" slice is just what you would expect or a "paper thin" slice for just a taste of sweet to finish your meal. We also provide an assortment of fresh baked cookies in our Grab-N-Go section baked by some of our favorite chefs!

"Paper Thin" slice of Cake – $1.00
Regular slice of Cake – $2.50
Grab-N-Go Sweets – $0.50
F

ries – $1.50

Our shoestring French Fries can be ordered salted ("regular"), or "spicy", a guest favorite.  Don't let the word spicy deter you from tasting these little treasures. Our spice is unique with just a little kick!

S

teamed Sandwiches – $3.75

An Ashlawn favorite, our steamed sandwich is made just how you like it. Choose turkey or ham, and cheddar or provolone. Add a little spicy mustard and this sandwich is bursting with flavor. It's a 6 inch warm sandwich we are sure you will enjoy.

Ham
Turkey
Cheddar
Provolone
C

hips

We make our chips right here at the Cafe!  Order our fresh salted chips served with salsa. Enough for 2 to snack on.  You can also order our fresh chips served with Queso. This is an evening menu specialty. Stop in on a Wednesday night or one of our special weekend nights for this yummy choice!  Our nachos start with our homemade tortilla chips. We smother them with chili and cheese and serve that with a trio of guacamole, salsa and sour cream. A half order is a hearty choice, or order a full order to share with a friend!!!

Potato Chips – $0.50
Nacho Chips – Half-Size – $3.50 / Large – $5.50
Chips w/Queso – $3.00
Chips w/Salsa – $2.50
B

owl of Chili w/ fries – $4.50

Connection Cafe Chili is a great choice on a cold day (or any day!). We serve this sweet chili with a side of fries, either Spicy or Regular. Top it with cheese and sour cream for just .50 extra.

P

izza

Exciting news!!! Pizza will be making a come-back soon! Another item that we will offer as an evening selection. Amazing fresh baked crust topped differently daily…always a favorite.

B

everages

We offer Coke, Diet Coke, Sprite Zero, and Coffee, all with a free refill…
or you can order a good ol' fashioned Glass of Milk to enjoy with your meal.

K

ids Meals
Steamed Cheese Sandwich with fries and a kid-sized drink – $3.00
Cheese quesadilla and a kid-sized drink – $3.00
Slider with cheese (ketchup and mustard optional), fries and a kid-sized drink – $4.00
*All items can be ordered to go.
We are thankful to God for an opportunity to serve our Remnant Fellowship family. Connection Cafe exists to be a glory to God as we fellowship, nourish our bodies, and bless the church. We are delighted to accept tips, which all go directly to Remnant Fellowship.
Special Events and Occasions
Contact the
Connection Cafe
For
Private Dining
Rehearsal Dinners
Birthday Dinners
All of your small Get-Togethers!!
615-416-3170
Make your Reservation for the next Connection Cafe Dinner!
We are now taking Reservations for the following date(s):
Friday, June 7th
Doors open at 6:00pm, Dinner Served at 6:30pm
Menu:
Choice of either Open-Faced Pulled Pork or Ribs
Southern Sides, Dessert
Soft Drinks and Coffee
Suggested Donation $18 per person
Bring Your Own Wine
Suggested Donation $18 per person
Make Your Reservation